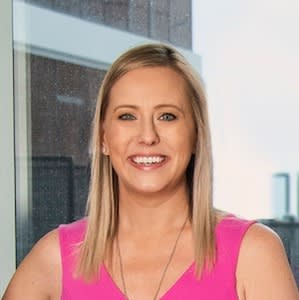 Valerie Sancrainte
Valerie began her real estate career in 2011 after working for several years in visual merchandising on Michigan Avenue. She has gained invaluable experience working in various capacities on both sides of real estate transactions. A self-described people person, becoming a broker has put her in an even better position to work with people in the industry she loves.


Valerie's interest in the real estate industry began at a young age, enjoying home improvement television shows led by industry experts. This pastime prompted her to begin analyzing local, national, and global markets. From this she gained an appreciation and a desire to help buyers find the perfect home. She loves to walk into a space with a renter or buyer, and help each client see the potential of the space. This artist mentality is in everything Valerie does; whether its small-scale rental homes, or large construction projects, or even fashion design and the latest couture styles, Valerie loves to find blank canvases and work with people to fill those canvasses with their own vision. A blank slate can sometimes be an intimidating hurdle for some clients, and Valerie enjoys helping her clients through that process.


Valerie's interest in fashion led her to begin volunteering with the Glass Slipper Project ®. The Glass Slipper Project provides free prom wear to high school juniors and seniors all around Chicagoland, and volunteers serve as personal style consultants. Architecture is another great passion for Valerie. She loves helping clients fill their spaces, but she often spends her free time exploring Chicago and experiencing the world-renowned architectural designs of its skyscrapers and museums, especially those in her own Gold Coast neighborhood. Her previous affiliation with Christie's International Real Estate and Auction House provided opportunities to attend private art showcases, seminars on global real estate, and other events .


Valerie is a regular attendee of meetings and events with the Chicago Association of Realtors and Young Professional Network. She also volunteers with Chicago Cares and the Read-with-Me reading & art program. She supports Special Children's Charities/Special Olympics Chicago and has participated in the Chicago Polar Plunge for several years. Valerie is a native of Michigan and has called Chicago home for more than a decade. She currently works as part oftop producing team The Sam Jenkins Group, carrying over a productive working relationship from CONLON to their new affiliation with Compass.